The behavior of shampoo and body wash depends on the existence of tiny entangled worm-like structures in the liquid. Researchers have been studying them for decades but there is a new urgency to this work. Consumers want to move away from the ingredients that are currently used in most shampoos. They want new products that are plant-based, natural, sulphate-free, and more sustainable.
Is this even possible? Can we recreate the all-important worms using these new materials? A recent paper by scientists from the University of Cincinnati and the Procter & Gamble Company provides some hope. Their research provides a path for development of sustainable shampoo.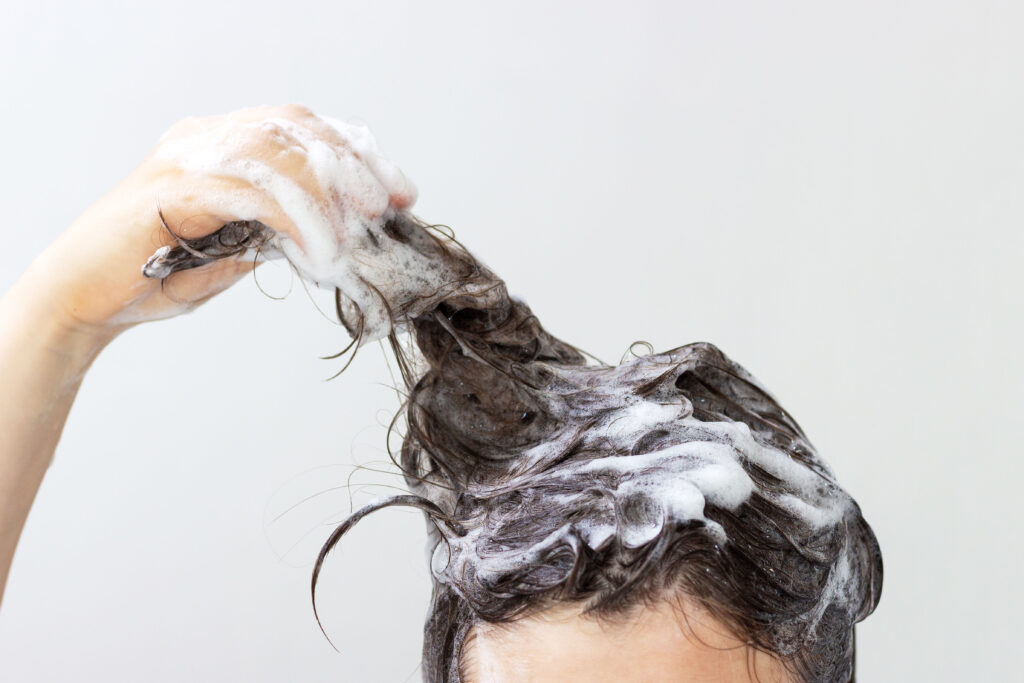 Shampoo is a remarkable material!
Just a few percent of ingredients dissolved in water creates shampoo that is so thick that takes time to move if you tip the bottle. That's not what usually happens when stuff is dissolved in water. A cup of coffee does not become noticeably thicker even if you add multiple spoons of sugar and creamer. And, yet, even though it is thick, you can easily squeeze shampoo out of a bottle or use a pump dispenser.
The shampoo becomes thinner as you shear it and disperses quickly once you apply it to wet hair. Imagine putting a spoon of Jello on your head in the shower. The structure would not change (at least during the time of your shower). The jello would slide off in the water stream. Even if you rubbed it you would just have pieces of Jello. Don't try this at home.
Why does shampoo behave this way?
When some of the molecules in the shampoo, the surfactants, are added to water. they do not entirely dissolve. Instead they arrange themselves to form long worm-like structures. When you tip the bottle it takes time for the entangled worms to unknot and allow liquid too move. When you force the shampoo through the nozzle of bottle the worms break and it flows easily. They reform so the shampoo becomes thick again and doesn't run out of your hand before you can apply it to your hair. And finally they fall apart as the shampoo achieves its destiny and cleans your hair.
What about the worms?
Scientists proposed the existence of the worm structures in the 1990's. By the time I was working for Colgate Palmolive in the 2000's the conference room whiteboards were frequently covered with cartoons showing surfactants aggregating to create entangled networks of worm-like structures.
I wonder if I was the only person who was secretly a bit relieved when transmission electron microscopy showed the first images of the tiny worms? They really existed!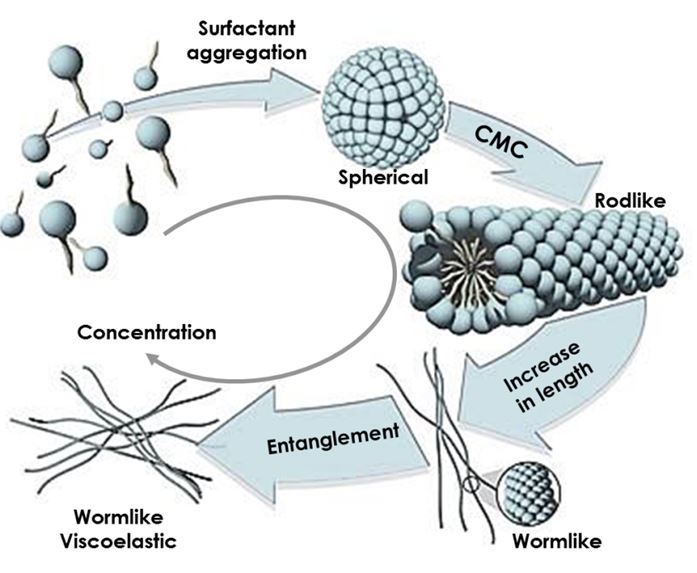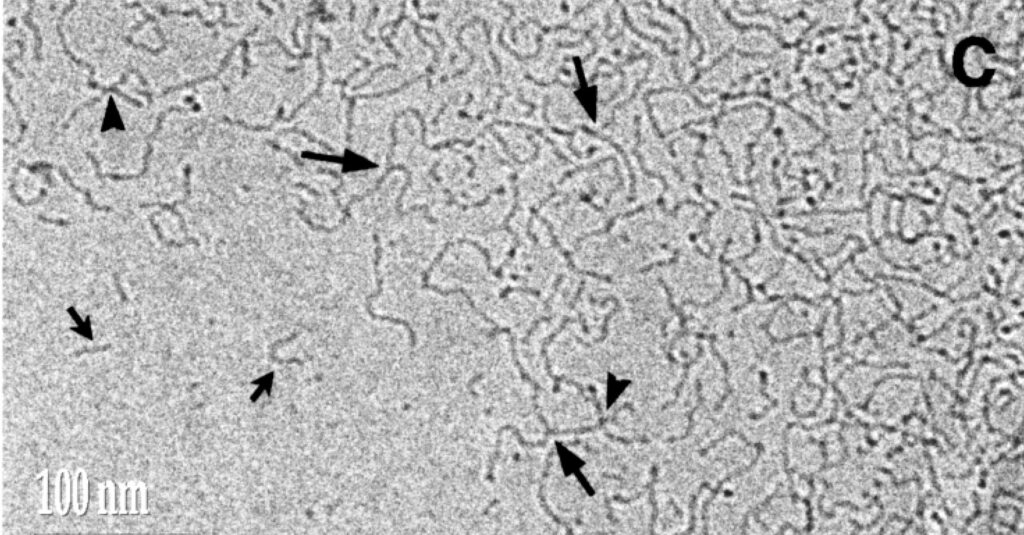 Tell me about the new results! Can we create sustainable shampoo?
Looking at a snapshot of a sample that has been frozen does not tell us how it will behave when it is used as a shampoo. In their recent paper grad student Trang Vu and professor Gerald Kasting from the University of Cincinatti, working with Michael Weaver and Peter Koenig from the Procter & Gamble Company, studied the dynamic behavior of a mixture of natural surfactants – a simple example of a sustainable shampoo.
The researchers analyzed the motions of tracer particles in the stationary material. Then they carefully measured what happened as the mixture was squeezed between rotating metal plates. Using well established models they could deduce what was happening to the worm-like structures as the ingredients in the potential new shampoo were varied.
In the traditional fossil-oil based shampoos adding salt induces worm-like structures, but unfortunately this approach does not work with the new more sustainable ingredients. However, changing the pH – making the shampoo slightly more acidic – did work! In this graph from their paper you can see the increase in viscosity, along with the increase in reputation time (longer worms), and a decrease in breakage time as they reduce the pH. For this mixture a pH of about 5 gives the thickest (highest viscosity) material.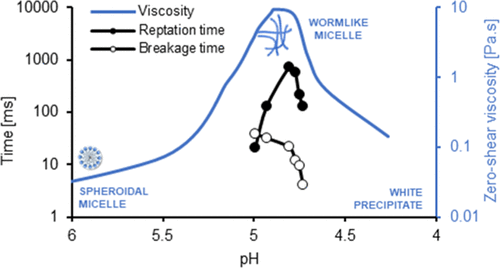 Yes, we can have good, sustainable shampoo.
This research, and research by other groups around the world, suggests that although careful formulation we can create worm-like structures in shampoo made from more sustainable materials. It may indeed be possible to create a think shampoo, that be pumped or squeezed out of a bottle, and will function just as well as the fossil-oil based materials.
This does matter. If sustainable, natural or plant-based products do not work well – if they are thin and watery, or are difficult to dispense – only the most passionate environmentalists will use them.
The worms in the specific surfactant mixture studied in this paper are too fragile. They break and branch too easily. The authors have not yet found the optimum formula. But, the approaches they demonstrate will streamline research and development of products using sulfate-free and natural surfactants as we continue to reveal the secrets of the worms in our shampoo.
Want to learn more?
This cute video (YouTube) demonstrates that shampoo can make oil dissolve in water so that it can be rinsed away.
The UK Cosmetic, Toiletry and Perfumery Association Limited (CTPA) have created a short overview on how shampoo works (blog post).
This website created by the makers of Head and Shoulders includes some hits and tips for washing your hair.